Fantastic web development newsletters worth reading
22-08-2019,

14:17
- Views: 556
Hey Dev. District!
Found a cool resource listing some of the top web. dev. newsletters you can subscribe to and get straight into your email, full article by Thomas Peham, accessed
here:
It seems like thereís more great stuff to read today than ever before. And still, finding that great stuff takes more and more time. Because of this, Iím a huge fan of newsletters, especially if they contain some awesomely curated content.


Hereís a list of great web development emails & newsletters you should definitely subscribe to.


JavaScript Weekly

JavaScript Weekly is a weekly email round-up of interesting JavaScript articles and news. Itís definitely a super-interesting resource, even if youíre not a JavaScript expert.

javascriptweekly.com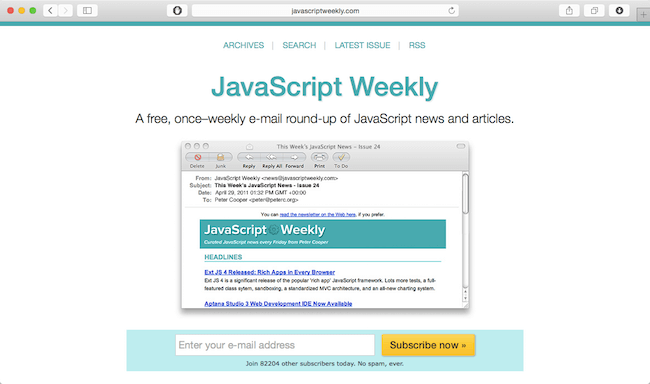 HTML5 Weekly

Similar to the JavaScript Weekly newsletter, the HTML5 newsletter is sent weekly, curating the most important and interesting news in the field of HTML5. Definitely a super-interesting read for staying up-to-date with the latest HTML developments.

html5weekly.com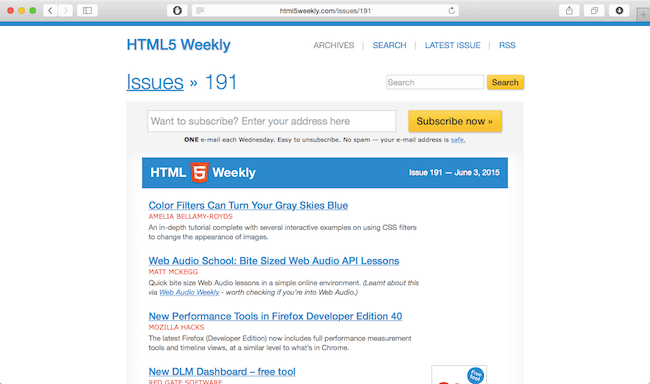 Web Designer Weekly

Web Designer Weekly is a new newsletter by a web designer, for a web designer. Itís a web design newsletter curating the best resources, tips, advice on how to become a better web designer. If youíre looking for new ways to step up your web design and UX knowledge, you should give this newsletter a try.

webdesignerweekly.com




SitePoint Versioning

As a web developer or designer, you probably know SitePoint. They publish interesting articles, tutorials, books, and courses regularly. If youíd prefer that content delivered straight to your inbox, you should give SitePointís newsletter Versioning a try.
Versioning is a daily newsletter featuring a handpicked selection of the most important things in web dev and design Ė as well as some fun content, too.

sitepoint.com/versioning





Responsive Design Weekly

The great things about round-ups is that those newsletters wonít flood your inbox, rather than deliver great content once a week/month/etc. The Responsive Design newsletter is definitely your go-to resource if youíre looking for responsive design tips and tools in a nice weekly overview.

responsivedesignweekly.com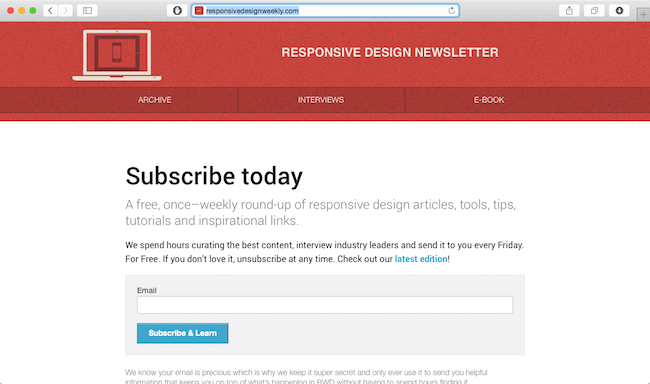 Code Project newsletter

Code Project is a weekly newsletter made for developers and engineers. The newsletter is clustered in various topics (such as QA & Testing or reviews) and libraries & programming languages (such as C++, PHP, JavaScript,..).

codeproject.com/script/Membership/



Webdesigner Depot newsletter

Webdesignerdepot.com is a great web development & web design blog with some awesome articles on various topics. Itís packed with quick bits of news, as well as inspirational long reads and cool new services & tools.

webdesignerdepot.com/newsletter/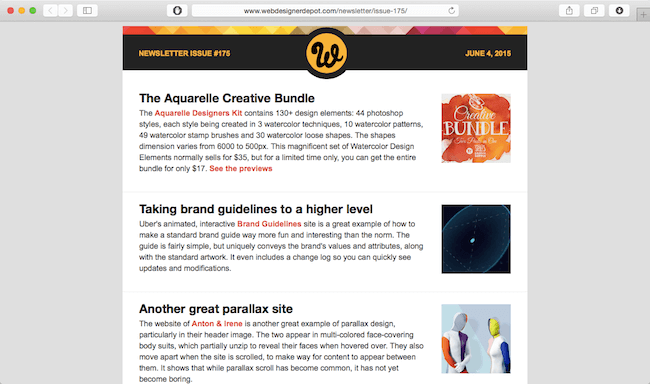 code tuts+ newsletter

tuts+ provides some awesome content on interesting tutorials and reviews on web development related topics.
By subscribing to their newsletter, youíll receive weekly updates on new code courses and web development tutorials.

code.tutsplus.com




hackernewsletter

If you enjoy hacker news, the hackernewsletter is your go-to newsletter. Basically, itís a weekly round-up of the best articles on tech, programming, and startups. All links are curated posts from hacker news.

hackernewsletter.com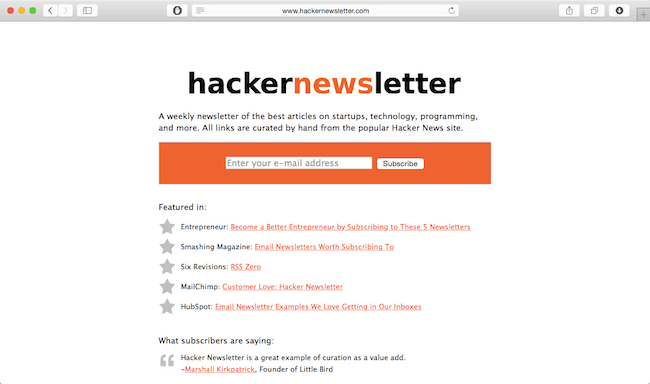 wpmail.me newsletter

If youíre interested in latest WordPress developments, you should check out wpmail.me, which is a weekly newsletter with the best WordPress resources, news, and articles.

wpmail.me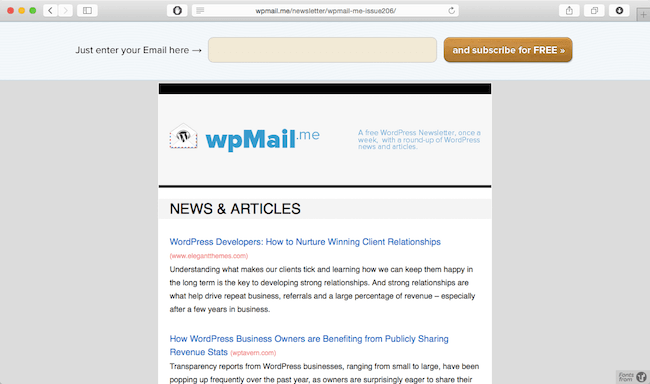 Yoast newsletter

If youíre developing for WordPress, you probably stumbled upon some Yoast plugins for WordPress already. Especially the Yoast SEO plugin is probably the standard of WordPress plugins. The great thing? Yoast also provides a weekly, sometimes bi-weekly newsletter, including some great WordPress tips.

yoast.com/newsletter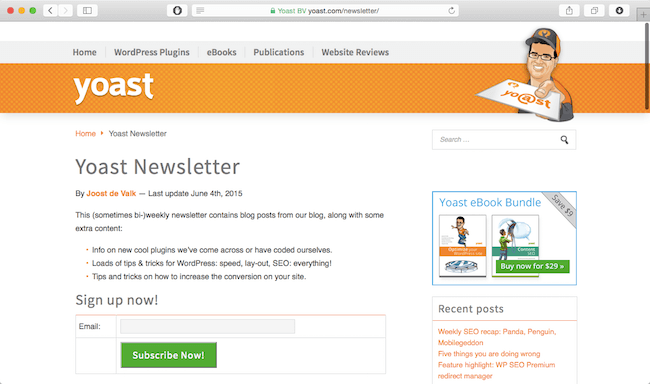 developerWorks newsletter

The developerWorks newsletter is curated by IBM engineers and offers you some great content in a large number of categories Ė such as cloud computing, Linux, Java, and a lot more. Youíll also find ebooks, studies and other great content in their monthly newsletter.

ibm.com/developerworks/newsletter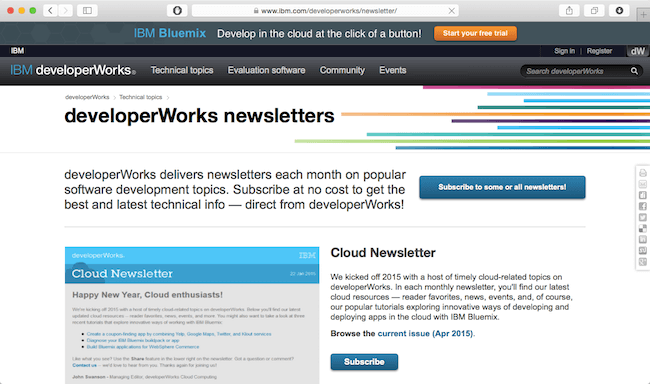 Ruby Weekly

Weekly newsletters are quite prominent in the web development and software field. The Ruby Weekly newsletter brings you the latest Ruby articles and news directly in your inbox.

rubyweekly.com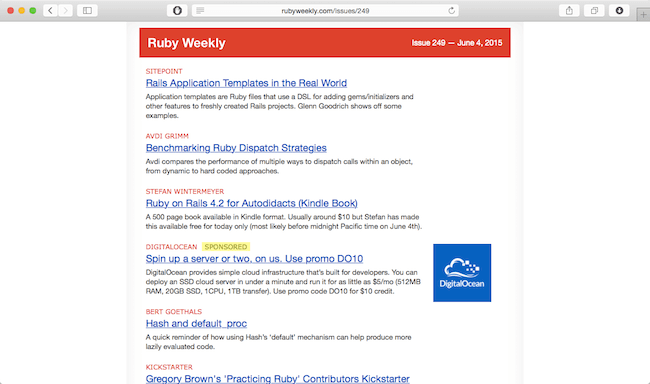 DEVOPS WEEKLY

With the DEVOPS WEEKLY newsletter, youíll get a weekly slice of DevOps news delivered to your mailbox. This newsletter features some great tools and articles that every developer might enjoy.

devopsweekly.com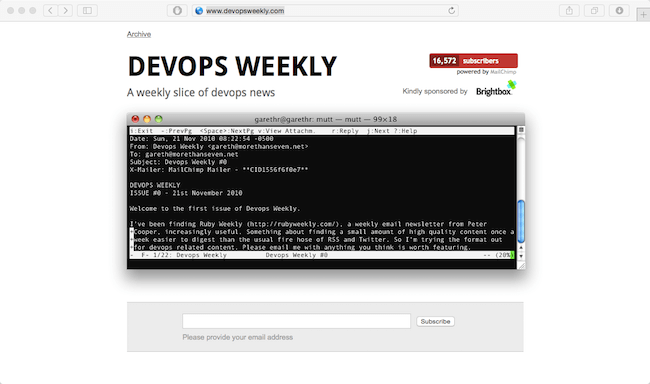 The Smashing Email newsletter

Smashing Magazine is an awesomely great news site offering some high quality content on a broad variety of web development and web design related topics. By subscribing to their bi-weekly newsletter, youíll get the best articles directly sent to your mailbox.

smashingmagazine.com/the-smashing-newsletter


Dev Tips Daily

If you prefer smaller bits of interesting content, Iíd definitely recommend to give Dev Tips Daily from Umar Hansa a try. Youíll receive a developer tip, mostly in form of a gif 5 days a week.

umaar.com/dev-tips/





CSS Weekly

CSS Weekly is a weekly round-up containing the best tutorials, experiments and tools for CSS. Besides the HTML5 Weekly, itís a great resource for frontend developers and those who want to learn more about CSS.

css-weekly.com


Wow..that was quite a lot. Any newsletter missing? Let me know in the comments!